While not exactly a buried treasure, for it was a major release from a major studio in 1970, TORA! TORA! TORA! has in some respects become a forgotten one. Hollywood history is replete with films which lived or died at the box office not because of lack of quality, but simply because of the existent social context at the time of their release. BRINGING UP BABY, Disney's FANTASIA, BLADE RUNNER and John Carpenter's 1982 version of THE THING (all of them trend-setting cinema classics still imitated today) were all amazingly blasted by critics and shunned by audiences during their initial debuts. Such was the unfortunate case of 20th Century Fox studio head DARYL F. ZANUCK's pet project - TORA! TORA! TORA! Hard to imagine in today's post-PLATOON / SAVING PRIVATE RYAN era of exhaustive historical accuracy and a desire to not glorify war, how a film like TORA! could be negated for (get this) "historical accuracy at the expense of drama". But that's exactly what happened.

play TORA! TORA! TORA! - "Entr'acte" (J. Goldsmith)

Fox studio head Daryl F. Zanuck
After the international success of Zanuck's sprawling war epic THE LONGEST DAY (1962), wherein events leading up to the Normandy invasion were told from the triple perspectives of American, British and German forces (each section helmed by a director from said country), Zanuck shared with LONGEST DAY producer ELMO WILLIAMS his desire to encapsulate another monumental WW2 event in similar fashion. They chose the Dec. 7th, 1941 Japanese attack on Pearl Harbor. As with THE LONGEST DAY their intent was to be as historically accurate as possible. WW2 historian CORNELIUS RYAN, on whose 1959 book THE LONGEST DAY was based, and his researchers spent three years interviewing over 700 people around the world, cross referencing 400 specific events concerning DAY's recreation of June 6th, 1944. If two or more parties couldn't confirm a specific detail, it would not be included in the book. Zanuck and Williams would apply the same ruthless dedication to accuracy with TORA! They soon learned however how that accuracy would make things considerably tougher this time around.




THE LONGEST DAY as a book is centered around the people involved in D-Day, both military and civilian; their personal observations, fears, hopes, desires, etc. In fact it reads smoothly as if a novel. The film version would also focus on the people involved, and as such could rely on their drama and internal passion to propel the on-screen narrative, giving the audience emotional "touchstones" onto which they could project themselves: the proverbial "If I were in that situation I think I'd act this way or that" aspect which a film needs. Also, the D-Day invasion was remembered as an ultimately positive event which would usher in the final victorious Allied push towards the end of the war in Europe.
Martin Balsam (L) as Adm. Kimmel (R)
A film dramatizing the attack on Pearl Harbor was something altogether different. It would climax with the destruction of a sizeable portion of the U.S. Pacific Fleet and the deaths of over 2,400 men. Not exactly the "feel good movie of the year". Finally, Pearl Harbor was still a sensitive subject for many. Numerous survivors and families of survivors still vividly remembered that morning, and memories can be very subjective when emotions enter the mix. One person may recall an event one way while the person standing next to them at the time it happened remember it another.


Jason Robards (L) as Lt. Gen. Walter Short (R)
For Example, how to depict Pearl Harbor's two primary commanding officers, ADMIRAL HUSBAND E. KIMMEL - Commander-in-chief of the U.S. Pacific Fleet (ultimately portrayed in the film by MARTIN BALSAM), and LT. GENERAL WALTER SHORT - Commander-in-chief U.S. Army Forces Hawaii (played by JASON ROBARDS)? Over the years they had been vilified for ineptitude by some while believed by others to be scapegoats taking the rap for the ill preparedness of an entire chain of command. To top it off this was also the era of the very unpopular Vietnam conflict. In the short time since THE LONGEST DAY's debut, American tastes, expectations and opinions concerning depictions of war had changed considerably. There had been films concerning Pearl Harbor in the past. FROM HERE TO ETERNITY (1953), IN HARM'S WAY (1965), and even I BOMBED PEARL HARBOR - TAIHEIYO NO ARASHI (1960) in Japan.



play TORA! TORA! TORA! - "Pre-Flight Countdown" (J. Goldsmith)
But, entertainment value not withstanding, they were ultimately more gung-ho, near propaganda-ish dramas wherein the Dec. 7th attack was more a narrative "McGuffin", a story-point event towards which the various characters' romances and other forms of emotional angst would ultimately converge. With raw and horrific news footage from Southeast Asia beaming into living rooms nightly, near jingoistic treatises on men in combat were no longer enough. The late 1960's populace was fine-tooth-combing everything placed in front of them, and in a time when many were demanding civil rights, gender equality and an end to U.S. involvement in Vietnam after the Tet Offensive, Zanuck and Williams where now challenged in ways they had not initially anticipated.

They came up with three solutions. 1) The studio would take out full page ads in major U.S. newspapers explaining "Why TORA! TORA! TORA!?". And the answer as printed, "To insure that such an attack can never occur again". 2) Zanuck would secure the rights to two of the most respected books on the subject - TORA! TORA! TORA! by GORDON PRANGE, and THE BROKEN SEAL by LADISLAS FARAGO (author of the biography on which Fox's PATTON would also be based). In addition Elmo Williams would (Cornelius Ryan-like) not allow anything to be included in the script which couldn't be verified by more than one source on both sides of the Atlantic. To this end even former Japanese Commander MINORU GENDA - a chief planner of the Pearl Harbor attack, was himself secured as a technical consultant.


FX Supervisor L.B. Abbott (L) and Producer Elmo Williams (R) on set

And finally 3) unlike THE LONGEST DAY's novel-like focus on the persons and personalities involved, TORA! would primarily focus on events, specific decisions within those events and the repercussions of both. And it would do so analytically and cipher-like, almost as if a documentary told in narrative form. The "characters" would be there to fulfill their historical responsibilities only in the sense of "this person did and said that at this time". But their actions and words wouldn't necessarily be editorialized as either positive or negative. That would be left for each member of the audience to decide - a daring move, and the first time a big budget studio war film would take such an approach. In fact the now commonly used phrase "docu-drama" was first coined to describe just exactly what TORA! TORA! TORA! was to be.


RICHARD FLEISCHER, who had proven facile with large scale material (20,000 LEAGUES UNDER THE SEA, FANTASTIC VOYAGE, DOCTOR DOOLITTLE) as well as with smaller character-based fare (THE BOSTON STRANGLER) was hired to helm the American sequences. And in what was at the time considered a coup (but which was more likely a promotional gambit) legendary Japanese director AKIRA KUROSAWA (THE SEVEN SAMURAI, YOJIMBO) was hired to supervise sequences on the other side of the Atlantic. Problems with the legendary director began immediately. Constantly behind schedule, with no usable footage coming in, and with rumors of Kurosawa's lack of confidence on such a large scale production, things went from bad to worse when back at Fox it was discovered the director was hiring a cast of non-actors for pivotal roles.


Dir. Richard Fleischer

In a Nov. 2001 episode of the History Channel's HISTORY VS. HOLLYWOOD, producer Williams speculated how it seemed Kurosawa was hiring successful Japanese industrialists rather than actors in order to incur favor for the financing of future film projects. On the 2001 Fox DVD re-release of TORA! TORA! TORA!, director Fleischer would put things in a more understandable perspective:

"Well, I always thought that even though Kurosawa was a genius at film making and indeed he was, I sincerely believe that he was miscast for this film, this was not his type of film to make, he never made anything like it and it just wasn't his style. I felt he was not only uncomfortable directing this kind of movie but also he wasn't used to having somebody tell him how he should make his film. He always had complete autonomy, and nobody would dare make a suggestion to Kurosawa about the budget, or shooting schedule, or anything like that. And then here he was, with Darryl Zanuck on his deck and Richard Zanuck on him and Elmo Williams and the production managers, and it was all stuff that he never had run into before, because he was always untouchable. I think he was getting more and more nervous and more insecure of how he was going to work on this film. And of course, the press got a hold of a lot of this unrest on the set and they made a lot out of that in Japan, and it was more pressure on him, and he wasn't used to that kind of pressure."
Dir. Akira Kurosawa
At any rate, Kurosawa "resigned because of illness", and his associates KINJI FUKASAKU and TOSHIO MASUDA would together take up the mantle, utilizing many of the famous director's detailed plans and original storyboards. While at the time having nearly fifty film directing credits between them (mostly quickly made Japanese "programmer" flicks like the "B" movie classic THE GREEN SLIME) Fukasaku and Masuda nonetheless had few peers on either side of the ocean matching their experience in cranking out not only usable but high quality footage quickly. A few years later Masuda would be one of the creative forces behind the cult anime TV series STARBLAZERS (Uchu Senkan Yamamoto) as well as it's current big screen re-do SPACE BATTLESHIP YAMAMOTO: RESURRECTION (宇宙戦艦ヤマト 復活篇 Uchū Senkan Yamato: Fukkatsu Hen). But TORA! TORA! TORA! would continue to remain Fukasaku and Masuda's most prestigious achievement.

Other problems would arise as well. When news broke of the film's production, the Navy's Office of Information was swamped with complaints from civilians upset that active servicemen were hired to participate in the recreation of the attack.

They felt the depiction glorified the Japanese and portrayed the U.S. as inept and unprepared. Many believe this is the reason a government inquiry was launched into the production company's accounting books, where the film makers had to prove not a dime of taxpayer money was spent on hiring extras, or on fuel or maintenance of any replica or actual piece of military equipment secured for the film.

Another problem arose upon the realization that there no longer existed any Japanese A6M Zero fighter planes, the primary weapon of the attack, to be used in the film. The Japanese military agreed to destroy all working craft at the end of the war. But when discovered the Zero was itself based on the design of American trainers (particularly the T-6 Texan), the requisite 30 + enemy planes needed for filming were recreated by refurbishing U.S. trainers for (an at the time whopping) $30,000 each. The cost of this refurbishing and to film on location created a budget which many said was more than the price tag of the actual attack itself.
A mistake would lead to one of the most visually stunning pieces of footage ever in a war film. The P-40 crashing and exploding as it attempts to take off from Hickam field during the bombing of the runway (the scene where it's propeller disengages and goes spinning across the flight deck) was wholly unintentional. The plan was for the unmanned life-sized replica, rigged with explosives, to detonate much later when it was clear of stuntmen and other mockups. During it's taxi however the wind lifted and turned it towards the other replicas on the flight line … each of them rigged with explosives as well to be detonated later. To prevent EVERYthing from going up at once, the order was given to "blow" the P-40 immediately, to the surprise of the stuntmen. So the reason it looks as if those guys are hauling ass for real to outrun the fiery mayhem is because … THEY ARE!

Composer Jerry Goldsmith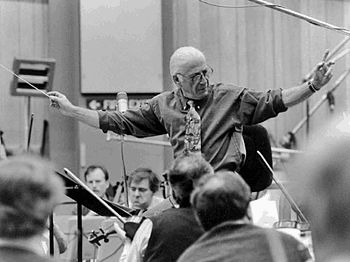 Finally, a chief catalyst in bringing TORA!'s disparate elements into a seamless whole would be it's innovative score by JERRY GOLDSMITH. The film editing of JAMES NEWCOME, PEMBROKE HERRING and SHINYA INOUE (a massive undertaking earning the trio an Academy Award nomination) would certainly smooth what was essentially two individually shot movies into a single rhythmically flowing epic visually ... especially during the final 40 + minute attack climax. But as the film's intent was to not "drama-it-up John Wayne style", any emotional "smoothing" or "sweetening" would necessarily have to rely on the music.


Known for sonic experimentation (he'd go on to use the "blaster beam" to define Vejur in STAR TREK: THE MOTION PICTURE, aluminum "rub rods" for the ghosts of POLTERGEIST and a chanting choir to voice the evil of THE OMEN) Goldsmith was at this time one of Fox's most acclaimed young contract composers. Having recently secured an Oscar nomination for the studio's PLANET OF THE APES (infusing the score with everything from aluminum mixing bowls to Brazilian percussion), he would the same year as TORA! create another iconic work in PATTON - it's "echoplexed" brass signifying the General's belief he was a reincarnated ancient warrior.




In keeping with TORA!'s "dual perspective" structure, Goldsmith's theme would do the same from the film's first fade-in. As the full-dressed crew of the carrier Nagato await the arrival of newly appointed Commander Yamamoto, the music erupts with a tiger-like roar of dissonance into what will become a stately Japanese melody - first voiced by the Koto then repeated by the ancient instrument the "Serpent" before eventually being taken over by full orchestra. The "roar" is appropriate as "Tora" (often translated as "Attack!") is more accurately "虎" or "Tiger" - symbolizing the animal's "never back down but always on the offensive" nature. The melody is also deliberately mathematic in that if slightly sped up it sounds like a triumphant military march, but if slightly slowed down plays as a tragic funeral dirge. It's a structurally simple but conceptually brilliant musical design which evolves over the course of the film.
play TORA! TORA! TORA! - "Main Title" (J. Goldsmith)

TORA! TORA! TORA! opened on September 23, 1970 to mixed reviews and disappointing box office - on an estimated budget of $25 million returning only $14.5 mill in the U.S. Proclaimed in it's ad campaign as "The Most Spectacular Film Ever Made", a number of film critics found it lacking, ROGER EBERT calling it "One of the deadest, dullest blockbusters ever made" and equating it's desire for historical accuracy to high school seniors with three-by-five cards, "If you get the quotes and footnotes right, you get an 'A' no matter what you say, right?".


It was a bonafied hit in Japan however, and years later would recoup and even add profit to it's stateside tally through re-releases (most notably a 1972 double-billing with THE POSEIDON ADVENTURE), TV airings and home video distribution.

Eventually - in the aftermath of hard edged docu-dramas like A BRIDGE TOO FAR, PLATOON, JFK and SAVING PRIVATE RYAN - it would also see it's critical cache rise, with TORA! today reaching a respectable aggregate rating of 71% on RottenTomatoes.com. It would receive five Academy Award nominations in early 1971 and take home one trophy for Best Visual Effects (to legendary Fox FX maestros A.D. FLOWERS & L.B. ABBOTT).





And if imitation is the best flattery, it would increasingly be flattered over the years - it's spectacular footage cribbed and re-edited into movies like THE FINAL COUNTDOWN, the TV mini-series PEARL, Universal's MIDWAY (director Fleischer remained angered by this), right up to BAZ LUHRMANN's 2008 period epic AUSTRALIA. It's docu-drama "based only on verifiable historical records" format would also be lifted by films such as the 1974 Cuban Missile Crisis TV movie THE MISSILES OF OCTOBER with WILLIAM DEVANE and MARTIN SHEEN as John & Robert Kennedy, the 1995 mini-series HIROSHIMA (also filmed by American & Japanese directors) and ROGER DONALDSON's theatrical THIRTEEN DAYS with BRUCE GREENWOOD and KEVIN COSTNER in the midst of 1962's Cuban missile standoff.

Most notably however it's contribution to cinema (and even general) history would be it's final line spoken in the film's closing moments by Admiral Yamamoto portrayed by SOH YAMAMURA. In reference to dragging the United States into WW2 he depressingly says, "I fear all we have done is to awaken a sleeping giant and fill him with a terrible resolve". For years it was debated as to whether or not Yamamoto actually said this or whether it was a minor and apocryphal departure from Zanuck & Williams' oath to remain faithful to accredited incidents only. The words are even re-quoted in director Michael Bay's 2001 PEARL HARBOR, itself a more "guts-and-glory" propaganda-ish throwback to the innocence of bygone eras, ... only re-tooled for post 9/11 audience sensibilities. At any rate it's screenwriter Randall Wallace (BRAVEHEART) acknowledges he took the Yamamoto "quote" from TORA! the film rather than from history. TORA! producer Elmo Williams claims to have found the quote in one of Yamamotos's diaries. And screenwriter Larry Forrester says he found a 1943 letter from the Admiral to Tokyo also containing the legendarily prophetic words. But this has never been confirmed by other sources.



Whether TORA! TORA! TORA! is remembered today as one of the first trend-setting post Vietnam-era shifts to war movie reality, or as an initially failed big-budget exercise in turgid historical documentation, well, … that remains in the eye of the person viewing the film. Regardless, it certainly was the fulcrum point which forever shifted the cinematic depiction of war to a combination of valor, foolishness, bravery, arrogance, luck and bad luck all rolled into one. PLATOON, SAVING PRIVATE RYAN, THE HURT LOCKER and others will forever be indebted.


CEJ - July, 2011 (revised 12/6/17)
A professed film music and jazz junkie, he's accused of being a workaholic, but more accurately feels he'll take a vacation when he's "earned" one. These days he's usually found chained to the desk in the wee hours - with a lovable pain-in-the-ass Lab / Shepered / Pitt mutt named Ripley at his side. - banging out web articles, scripts and a soon-to-be-published tome on the socio-political history of the science fiction, horror and fantasy film entitled "THE INHERENT POWER OF GENRE".